Jan2016NewsLetter
January
2016 Newsletter!

We'd like to welcome the following
members to <CC><!

anthotator
Sonofgray
SoulWinnerDC
BountyHunter
xXDarkSt0rmXx

And hello as well to our newest ACC
friends!

Protodax
BRIK

We hope you all stick around and make
the most our of community!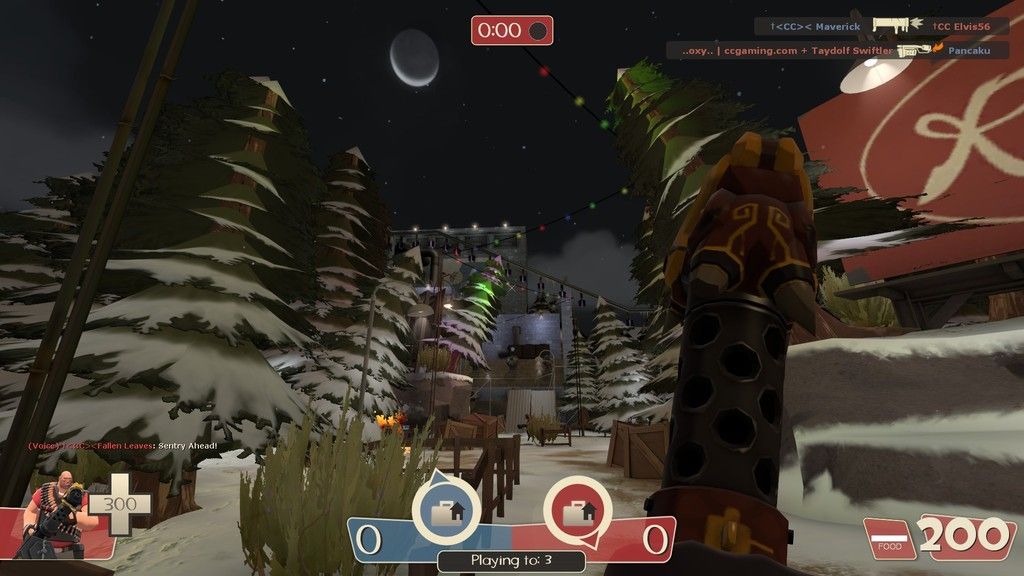 It's beginning to look a
lot like
VIOLENCE!
Christmas Party Mondays!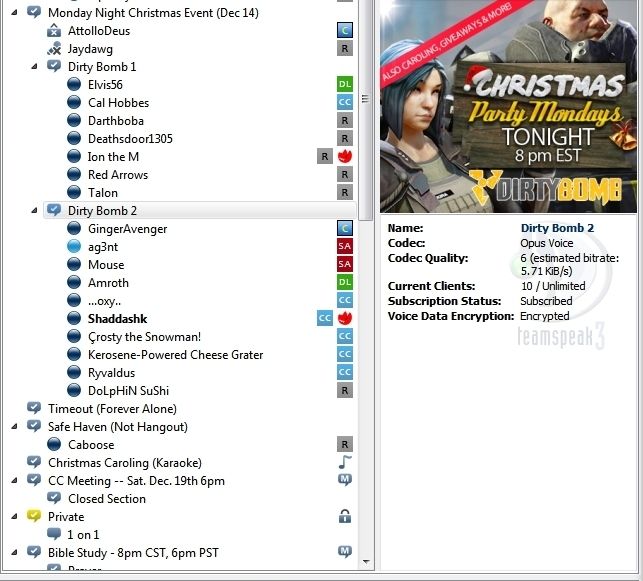 Full
House
Article: ShaddaShk
Twas
the Mondays before Christmas
"So, what is this Monday Night Event?"
"Well, it's the night where we sacrifice…"
Okay, so it probably wasn't a good idea to let Namonba answer the
newcomer's question! December 7th we had our first Christmas Event for
the month! It was a game of Team Fortress 2 that started at 8pm EST
where we played all sorts of untested snow maps. We had about 22 people
playing and listening to the chaos of Candy Cane Power (thanks Amroth!).
We finished playing TF2 and started Insurgency sometime around 10pm
EST. It was a full server of 16 players who continued to have fun for
the next hour and half before the majority of the group had to log off
due to morning priorities.
December 14th was an awesome event as well. It started around 6:40 EST
and about 30 people showed up as Oxy started the event off with several
giveaways. Some of the items won were CS:GO, GRID 2, Torchlight II,
Rocket League and many more. There were so many people submitting items
to the giveaway that Oxy had to decide to hold some back for next
Monday. Afterwards we moved on to the highlight of the night
– caroling! We started out with a group song of Twelve Days
of Christmas. Weren't there for it? Don't worry, check out this YouTube
link!

Finally, after one more short giveaway, we started up a new game called
Dirty Bomb (why is it called Dirty Bomb?). Since the private servers
are still in Alpha stage, we crash in on the public servers. We started
out with 16 players so we had to split into two groups. With a few new
players to the game it was a bit chaotic but both groups had a blast
for the rounds that we played and Dirty Bomb has probably gained a few
more CCG players.
Our third and final Monday event was December 21st starting at 8pm
EST. The games we played are Rocket League followed by
Blizzard's Heroes of the Storm, a good MOBA for those new to the MOBA
gameplay.  This Monday also, was a wonderful success, thanks
to everyone who took part, especially those who donated games and DLC
as gifts for others!
Ask
A Ginger
Article: GingerAvenger
Dear GingerAvenger,
Do Aliens exist? If so, do you think they are actually created separate
from the Human race or something else?
Sincerely,
Spaced Out
Dear Space Obsessed Person,
I cannot confirm nor deny the existence of aliens. What I can do is ask
you a few questions.
1. Is the God of all creation capable of making more than just what we
see?
2. Are you so arrogant to believe that humans are the only things that
God would make and think – eh, I'm done.
3. Do you think God's imagination is so limited that something in His
image is all He can come up with?
4. Do you believe we're going to know all that God has or can
do…like…ever?
My answer is that I don't know yet, but the fullness of time has not
come and all has not yet been revealed. Booya.
Love,
GingerAvenger
Dear GingerAvenger,
Can Donald Trump's hair be considered it's own presidential candidate?
Sincerely,
To Toupe it all off
Dear Trump Card,
Interesting question… I think it cannot. Here's why:
1. His hair has been that way for a very long long long long time. So
long, in fact, that he's well beyond the common law marital state.
2. Since then the two become one, they're one.
3. It's a comedy routine.
4. Wait… someone has informed me that he's actually
serious… Which might be more frightening. I feel like
someone
might need to sweep that under his rug, too…
5. We shall overcomb….
Synopsis – No. To all things, No. For the love of all things, No.
Please, no.
Love,
rGingerAvenger
We sent out this message to all
subscribed CCGaming Members..
©2015 CCGaming.com. All rights reserved.